by Katy Purviance on 09/03/07 @ 02:33:38 pm
Categories:
Class Notes
,
Observations
| 677 words | 7304 views
Interior Design Program Director Rula Awwad-Rafferty brought a much-needed perspective to our class of future architects. In our protective cocoon of affluence, many of us do not realize – or appreciate – the fact that most of the world's population lives very differently than we do. Regarde: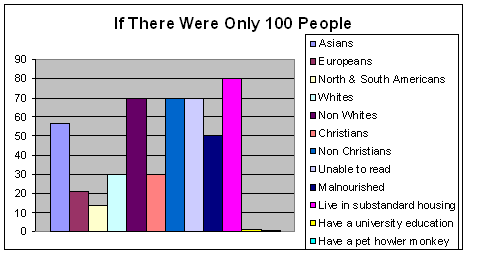 Since most of the population is "not like us," it seems wise to take a critical look at how they have responded to their built environment needs. It is likely that some of our future commissions will be foreign and so it is important to meet the client's needs with respect to their culture and not through the filter of our own cultural biases.
There are many factors that influence dwelling design and, as Rapoport said in 1960, the most important of these are the Socio-Cultural Factors. The other factors, which serve simply to modify the design, include:
• the response to climate
• the available materials, construction, and technology
• the resources, settlement, topography, etc., of the site, including the client's sense of attachment to the place
• the need for defense
• the level of economy: scarcity vs. conspicuous consumption
• the form, plan, and orientation of the space in respect to religion: sacred spaces, symbolic significance, etc.
• the client's attitudes toward nature: religious, cosmological, sybiotic, exploitative, etc.
• the desire for comfort
It may be one thing for an architect to come of with a list of necessary aspects for a design, or, its "criticalities," but, what is almost more important is how the architect proposes to achieve these needs in a way that is respectful to the client's culture. For example, one should never place a Muslim's bathroom in the east corner of their home. Other design applications include
• proxiemics, which concerns personal space and territoriality
• spatial articulation
• meaning and symbolism of space
• time perception of space
• process and outcome
There are a few points I'd like to make:
1. (NEWSFLASH!) Not everybody is like us.
For those who did not know it, we white Christian university-educated people are in the minority. Most of the world is not like us and should not be expected to conform to our idea of what a "house" is. In working with our big melting pot world, we young architects must be sensitive to the needs and values of our foreign pals and not try to inflict upon them our Americanized view of what we think they'd like.
2. There's a lot more to design than slapping some two-by-fours together, especially when the client comes from a culture where buildings don't look like soulless corporate America monstrosities.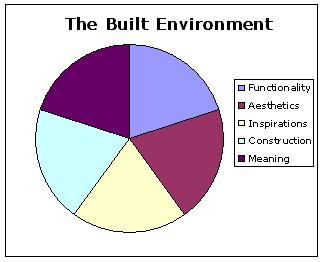 Most of the architecture that has sprung up in the past few decades makes the sensitive architect want to just puke their guts out because it is so butt ugly. Is there hope? You betcha. Hope lies largely in the fact that it cannot be culturally possible to continue to manufacture this boxy crap much longer. Call me a dreamer, but I believe that all things must come to an end, which means that the people who fund this soulless crap must come to their senses (perhaps by being forced to live in one of these boxes?). Yes, yes, I know that rich people are able to let their heart's fancy just come to life all over their vast land holdings, but non-rich people require beauty in their lives too. See the chart above and note that three out of the five components necessary in any built environment do not have to do strictly with functionality.
3. It's important to not come across to the client as the typical ignorant American.
While it's true that big business own our media thus making it impossible to get any real news about what is going on in the world, indeed, in our own country, we cannot rely on this as an excuse for our rampart ignorance regarding the values of foreign cultures. It is up to the architect to educate him/herself on the specific needs and values of her clients, foreign or not.
Send Feedback
|
Permalink