by Katy Purviance on 09/17/07 @ 07:40:19 pm
Categories:
Class Notes
,
Observations
| 818 words | 1089 views
Professor Ken Carper delivered a whirlwind lecture covering the many aspects of designing with technology, indeed, he says, everything that has been made has been done so using technology. He points out that technology resolves the conflict between man and nature. We do not live out in the wilderness thinking that everything is peachy keen. No. We are cold. Hungry. Naked. With technology, we can change all that and build countless McMansions and spend one seventh of our lives stuck in rush hour traffic behind a car beriddled with non-clever bumper stickers. This, we say, is progress, and we have technology to thank for it.
The architectural manifestation of technology is structure, which is the sculpture of the utilitarian world. Structure has three purposes:
1. Connecting two point, as in a bridge
2. Withstanding natural forces, as in a dam
3. Spanning and enclosing space, as in buildings.
Of course, further conflict arises between the vertical forces of nature and the horizontal dynamics of mankind. A properly-designed structural system will solve this conflict.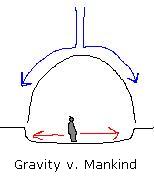 So, you're probably asking yourself, What kinds of structure technologies are there? The Professor listed these:
Acoustics
Structural Engineering
HVAC
Forensic Engineering
Plumbing
Electrical Engineering
Lighting
Communications Systems Engineering
Materials Engineering
Conveying Systems Engineering
Detailing
Fire Protection Engineering
Construction Process Technology
As successful design necessitates the creative integration technology and the creative resolution of conflicts, all of these technologies are apparently required.
There are a few points I'd like to make:
1. "You can shove thousands of people into the bowels of a building and just use equipment to keep everyone comfortable – using a hell of a lot of energy!"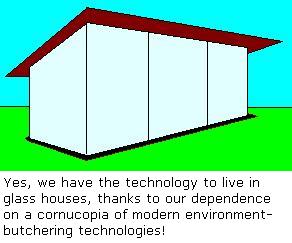 Good point, Professor. Before the technological advances that led to the widespread use of AC units, fluorescent lighting, and other such modern luxuries, architects ensured that future occupants had enough light by including – get this – lots of windows in their designs. It was an art and a science to design a building according to the position of the sun such that it might take full advantage of the winter sun and yet be shaded come summer. These buildings relied on the mass of masonry to provide stable thermal conditions. Buildings were designed according to the bounty and rhythm of nature. It was a simpler, happier time in which people used their minds. Now, thanks to the advent of HVAC technologies and artificial lighting, architects and planners may plop buildings down any which way, orientation be damned. These devil-may-care buildings create a great sucking sound on our natural resources, necessitating the import of foreign energy. When we cannot get these things cheaply, we simply go to war. We take whatever we want because we think we are more special than any other nation on Earth. This is the American Way.
2. "The most important thing you can bring to the design team is to hate ugly, poorly-integrated buildings."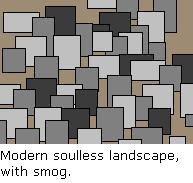 Again, good point, Professor. As I said above, yes, we have the technology to do whatever the hell we please. Not as well known, however, is the oft-denied fact that we, as human beings, also require beauty for optimal health and well-being (or, translated into American, for optimal productivity levels). We need buildings in which to live and work that are, by the very nature of their well-integrated designs, an Eden-esque expression of vitality. We have the sun and the moon and the seasons for a reason; let us work with them, not against them.
3. Once there was a grasshopper who spent summer and fall lounging around, teasing the hard-working ants. When winter came, the ants feasted, but the grasshopper froze to death.
Instead of freezing to death, however, the moral of our story will concern paying four dollars for a gallon of gas. Let this jovial children's fable serve as a warning to those who expect unprecedented levels of comfort instantly, at the expense of smaller, darker, harder-working peoples. Just because, as the Professor writes, "it has become possible to ignore the natural context in the design of structures," does not mean that it would be prudent to do so. Indeed, we are a nation of fools digging our own graves.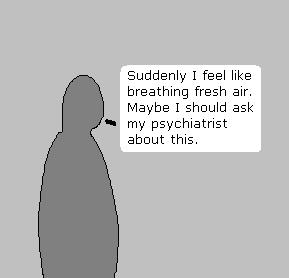 But there is hope. People are waking up. People are saying to themselves, "Gee, perhaps we are a nation of fools digging our own graves." They are looking for something new, and that something new is actually something very old. The are looking at something the profession is calling "appropriate technology." Appropriate technology means basing architecture and community settlement patterns on rational natural principles. People are now thinking that it'd be real nice to breathe real air and to feel real sunlight on their skin, which is good because one must get at least twenty minutes of sunlight a day in order to make sufficient levels of vitamin D, which regulates mood and other nice brain functions. No wonder so many people are mentally ill.
Send Feedback
|
Permalink