by Katy Purviance on 09/24/07 @ 07:41:29 pm
Categories:
Class Notes
| 605 words | 2138 views
Assistant Professor of Interior Design Shauna Corry wanted to show us that place is important to the creation of culture and society, so she had us do this exercise: She named a place and we had about a billionth of a second to draw the first thing that came to mind.
"Egypt."
I drew a map. Others drew pyramids. The sphinx. Mummies.
And so on for London, New York, San Francisco, and Fargo.
I drew the meat grinder with the guy's leg sticking out of it, like that scene at the end of the film "Fargo." This isn't the sort of thing you raise your hand for when Shauna wants to know what we came up with. Most people drew a blank on Fargo altogether.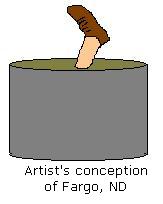 Amos Rapoport said, "The built environment is a direct and unself-conscious translation into physical form of a culture, its needs and values, as well as the desires, dreams, and passion of a people. Shauna told us that we have a massive amount of ideas to draw from as future designers, and that we need to develop a vocabulary of design. The theory is that we'll express our idea of the ideal environment by the places that we build (except, of course, those who build dorms or prisons or "on spec").
The designer has the power to affect people's lives. The careless (or pathologically deranged) designer can make a place horrible to inhabit if designed without proper ventilation for adequate natural light and airflow – not only to bring fresh air in but to carry nasty odors out. Contrariliwise, a designer can create an inspiring place by employing plenty of ventilation… and perhaps beautiful architecture wouldn't hurt either. That sounds really simple, doesn't it?
A few points I'd like to make:
1. Is it about money… or bad design?
Chicago politicians said they weren't going to spend any money on the Projects. They said the reason why they were so run down was because its residents didn't take care of them. Of course, it's hard to take care of your place if you have to buy inflated unnutritious 7-11 food since there's no grocery stores nearby or any money for a car to drive to one. It's hard to want to take your kids to play in the building's allocated green space when crazy people hang out there. It's hard to build a community in a badly designed place.
2. Design can tamper with people's concepts and behavior.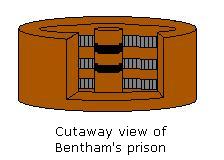 In 1791, Jeremy Bentham designed a prison wherein all of the cells radiated around a watch tower, which was designed such that the prisoners couldn't tell if they were being supervised or not. The idea was, if prisoners thought that they were being watched, they wouldn't do anything wrong. And, because they wouldn't do anything wrong, the tower didn't need to be manned as often as perhaps the prisoners believed. Incidentally, the prison was never built.
3. Design can tamper with people's concepts and behavior, Part Two.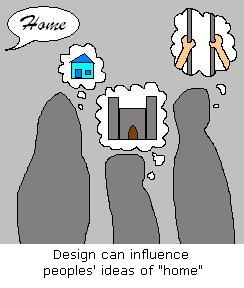 All people, especially children, form relationships to things and places, using the nature of these relationships, as well as nature of their homes and places of frequence, to construct the cognitive backdrop of their personal identity. Much like how the quality of the womb often determines the quality of the baby, the quality of one's built environment determines the quality of the person therein. Let this serve as a word of warning to all designers who think that they can get away with shoddy design: the future is in your hands.
Send Feedback
|
Permalink