by Katy Purviance on 10/01/07 @ 07:42:37 pm
Categories:
Class Notes
,
Observations
| 921 words | 6499 views
Assistant Professor of Interior Design Irena Solovya let all of us who did not yet know that we will indeed become a people wielding great power. We will create universes. We will command the movement and behavior of unborn generations. Whenever little Joey runs into one of our neo-post-modern bas-relief walls, his mother will curse us. Whenever little Tina notes how easy it is to hide away in the laundry chute, her tiny heart will beat with love for us. Yes. The unknown long dead architect. The one who got a D in Basic Simple Easy Stuff to Look Out For in Architectural Design.
Life is full of bad design. Does it makes sense to storehouse our nation's bright eager young minds in cramped cinder block hovels resemblant of prison cells? No. Does it makes sense to put long rows of attached chairs in a place renowned for it's dearth of interaction such as an airport where no one will sit next to a stranger unless absolutely necessary? No.
But for those of us who will not go on to become bad designers, it is comforting to know that good design, as Irena pointed out, is easy and instinctual. It's about caring for people and making designs for them as human beings. It's about realizing that providing comfort, safety, and efficiency are what interior design is all about.
And yet, ironically, we must also think of people as physical objects, meaning that we as designers must take anthropometrics (the measure of the human body) and ergonomics (the manner in which the human body works in regard to its environment) into account. Our designs must be based upon how people really move and how they really act and interact. Good design must not only fit people, but it must fit everybody.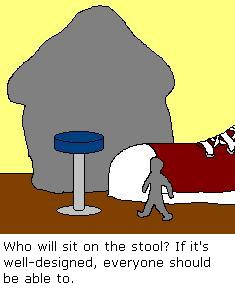 Does the Design Accommodate:
Tall People?
Short People?
Fat People?
Thin People?
Wheeled People?
Bipedal People?
This, Irena explained, is called Universal Design.
I have a few points I'd like to make:
1. A good way to make people happy, healthy, and productive is to design spaces for them that show that you're interested in more than slapping together an ugly box made out of formaldehyde glulam and beige carpet.
Once I worked the graveyard shift at a place that took orders for those late-night infomercials. The place had filthy beige carpet. The bathroom smelled like thick damp stuffy Clorox "Fresh Laundry" scented air freshener. Our chairs were broken. Our computer keyboards were never wiped down with disinfectant. There were cockroaches in the break room. Most of my coworkers were actors with auditions in the morning (Walter, who played the butler in that Adam Sandler movie, was the only one who had "made it"). I don't know about everybody else, but when I walked into that building, I felt degraded and insulted in a way that was hard to articulate. All I knew was that whoever designed this interior truly didn't care about beauty or spiritual fulfillment or any of that nicey nicey stuff. If it weren't for the pleasure of selling pasta pots to old ladies in Iowa at 3 AM, I'm sure I would have quit much sooner than I did.
But let us contrast this to a better designed work place . . . Hmmm, funny, I don't think I've ever worked in a well-designed environment. This could explain my rampant cynicism. But let us imagine, shall we? A well-designed work place would get plenty of natural sunlight. All the furniture would be highly ergonomic. There would be a little tiny room in the basement for the supervisors, with a lock on the outside. The vending machines would be broken so that employees could get some damn peanut M&Ms without having to borrow sixty five cents every time. The walls would be rounded and soothing to the eye, perhaps painted with low-VOC murals of beach scenes. Oo, ah, can't you just feel it?
2. Since the average American spends ninety percent of their life within the confines of a building, we as designers have an awful lot of power over their welfare and well-being.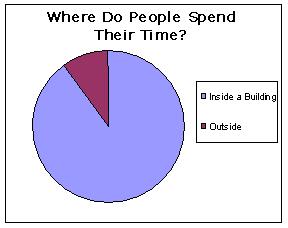 We as designers have a real responsibility for the mental states of a lot of unsuspecting people. Is your design too dark, too narrow, crowded, hard-to–navigate, stuffy? Chances are, the future inhabitants will have miserable lives, and you will be to blame. Hopefully none of us are the kind of designers who like to install too-narrow benches and sloped counters and extra-staticky carpets. If we're good designers, we'll keep in mind that the spiraling costs of the pharmaceuticals that people use when their environments fail them will come back to haunt us.
3. All of Irena's points about how good design is just common sense makes another point: a lot of people are only carriers of the common sense gene and, though they might be convinced of their own design prowess after watching a "Trading Spaces" marathon, they are perversely deceived.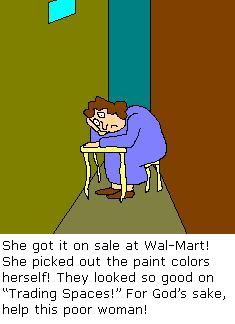 A common problem in our country today is the idea that just anybody is inherently capable of being a good designer. While I personally enjoy the dizzying array of home decorator shows available today, I am sure they are wreaking havoc on somebody's wallet, self-esteem, and/or marriage. It is chief among our responsibilities as designers to remind the general public that they require our finely-honed skills and innate talents if they ever hope to have a decent interior to inhabit.
Send Feedback
|
Permalink