by Katy Purviance on 10/08/07 @ 07:43:29 pm
Categories:
Class Notes
,
Observations
| 821 words | 985 views
Professor Wendy McClure delivered a most interesting lecture covering the past hundred years of architecture. It was exhilarating and almost certainly a teaser for next semester's History of Architecture. Oh what unbridled anticipation I feel.
We open up the 1900's with the
formed by the ideologies of the Beaux Arts school in Paris where everything possessed an axial formality and monumentality. And then came the Industrial Revolution which spawned its bastard child, rapid urbanization which of course led to the development of new construction materials, such as steel, and viola, we had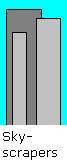 and the skyscraper was born. But, in that every new thing is a reaction to the thing that came before it, people such as boy wonder Frank Lloyd Wright said, I don't think so, and invented the
which was lovely with its human scale and proportions, not to mention its organic dialogue with nature. Meanwhile, in Germany, the Bauhausians rejected history and traditions, preferring instead to design buildings according to functionality and their personal

manifestos of how people should live. Indeed, the new beauty, if I can call it that, took the Western world be storm, effectively detracting attention from Wright and sending the design world into a era stretching from WWII to Vietnam of harsh sterile colorless boxy architecture, an illness form which we have yet to fully recover. Not that we haven't tried: people began to rethink architecture in the sixties. Some people, left cold by Modernism, turned to
while others, spurned on by the 1973 Energy Crisis, decided that the Modernist glass sky scrapers had been a pretty myopic idea. In this resurgence of interest in vernacular or
Environmental and Solar Architecture,
these designers focused on finding alternative energy sources and (get this) actually paying attention to the particulars of the site in question and its climate when designing a new buildings. Around this same time a group known as The New York Five turned back to Modernism, albeit renewed and now called
New Modernism
while maintaining its obsession with both geometry and with trying to tell people how to live. The world of architecture is almost like a wrestling match sometimes because, with the resurgence of Modernism, the Historic Preservationists came back demanding a little contextualism already. And then the
gave buildings back their bases, middles, and tops, as well as playful ornament, making their buildings look Disneylandesque. We all know what Modernists think of ornament, but lending reference to the Imperial World of Disney is surely almost as criminal. In the eighties, Modernism came back into the ring with a vengeance, this time under the name
with its top-notch engineering and mechanical system style of decoration. This onslaught of ugly buildings was parried by the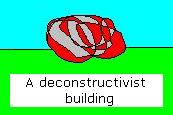 who, like the Modernists, rejected the human scale and celebrated fragmentation, dislocation, and impermanence. Thus, it was no wonder that
which designs its buildings contextually, as well as
which does the same, but with a lot more consideration to things like climate and solar orientation, rose up, along with, therefore,
New Modernism
which can also be considered a kind of regionalism what with its framing of the national landscapes.
Whew!
A few points:
1. My, isn't the playful banter in the architecture world not unlike a ruthless wrestling match to the death?
While it can certainly be said that every new development in architecture (or for anything else for that matter) is only a reaction to the thing that came before it, the whole progression of architecture becries intentions more intense than anything on the purely intellectual or aesthetic level. Is Death Match that far off in this, our crazy mixed-up world? And here's an even more interesting question: who will design this Mad-Maxian Two-Architects-Enter-One-Architect-Leaves Dome?
2. Wouldn't it be real nice if all those architects who designed those insidious ugly boxy buildings (suburban developments come to mind) were shipped off to an equatorial island with not even their drafting tools to keep them company?
In reviewing a history of contemporary architecture, it is difficult not to form an opinion. This is mine.
3. Wendy McClure said, "We move forward in circles," which brings to mind the Western verses Eastern concepts of time, the former being linear and the latter being circular. Wendy's comment demonstrates that perhaps both are correct; that time is a spiral.
Are we spiraling out of control in our madcap race to always come up with the newest, best, brightest, most creative, most inventive, most economically-feasible buildings possible? Are the economic pressures placed on the architect sucking them dry of their innate creativity? Wouldn't it be nice if this was Europe and we could all just take August off and go hang out at a nudist beach and laugh at those silly Americans who are working themselves to death at the altar of economic gain?
Send Feedback
|
Permalink