by Katy Purviance on 10/15/07 @ 07:44:32 pm
Categories:
Class Notes
,
Observations
| 764 words | 1056 views
Roman Montoto gave us an interesting tour – I have a hard time calling it a lecture – on Bruce Mau's design philosophy and how we might be inspired by it when it comes time to ravish the world with our own designs. I think what Roman was really trying to tell us that, for the love of God, we have enough hideous eyesores out there already.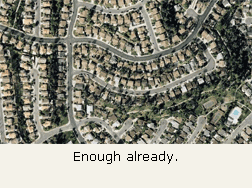 I think he was telling us to be like little wildflowers who will blossom with our little wildflower colors out there in the great wasteland of architectural monotony. Blossom, little wildflowers, blossom, he seemed to say. And I, I have heard his call. But first, even though I knew what it meant and only wanted to be sure, I had to look up "praxis."
n. pl. prax•es (pr k s z )
1. Practical application or exercise of a branch of learning.
2. Habitual or established practice; custom.
Roman told us that there are many ways in which we as future designers may find our ideas. We can do more than copy the work done in the past (especially the recent fifty years). We can, for example, make a word-usage chart based on our favorite movie. We can run this chart through some kind of imaging program. We can manipulate it with our sleep-deprived minds. We can draw it in plan and scale. Viola, we can then say: Something entirely new on which the wide wide world of architecture has never before laid eyes.
Fascinating, yes, but when he ran us through a few examples of student work – students who have done just this – I experienced a sensation not unlike what I experience when i look at, oh, say, any example of deconstructionist architecture: Bleh.
Perhaps a better idea would be using ratios? Perhaps that would be a better design methodology? Perhaps taking a cue from nature? What was so wrong with that?
But I digress. I'm looking up Bruce Mau's Incomplete Manifesto instead…
1. Point Number Two in Bruce Mau's Incomplete Manifesto is: Forget about good. Good is a known quantity. Good is what we all agree on. Growth is not necessarily good. Growth is an exploration of unlit recesses that may or may not yield to our research. As long as you stick to good you'll never have real growth.

Hmm. Yes. I can see his point in terms of the process of designing and with coming up with ideas. For example, when designing a chair, say, it is important to throw out preconceived ideas of chair-ness, or, in Bruce's parlance, "a good chair." One shouldn't think about copying the idea of what a chair is. One should ponder the meaning of a chair, focusing on what a chair does and what its sitter needs the chair to do. It is these ideas that should shape ones new chair design. This is growth.
2. Point Number Six is: Capture accidents. The wrong answer is the right answer in search of a different question. Collect wrong answers as part of the process. Ask different questions.
I had a microbiology professor who once responded to a student question with: "That's a good question. Why would you want to trade it for an answer?" It is the question, or the quest, if you will, that drives people. We need to be driven. We need that inspiration – that unanswerable question – to be pushed further and further into the deep. (Point Number Eighteen is: Stay up late. Strange things happen when you've gone too far, been up too long, worked too hard, and you're separated from the rest of the world.)
3. Point Number Forty is: Avoid fields. Jump fences. Disciplinary boundaries and regulatory regimes are attempts to control the wilding of creative life. They are often understandable efforts to order what are manifold, complex, evolutionary processes. Our job is to jump the fences and cross the fields.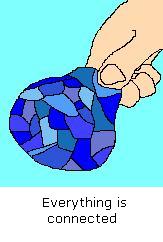 I was an advertising major for two years. I earned a degree in microbiology. I was in the Peace Corps, the Navy, and the Merchant Marine. I have traveled to or through forty eight states (sorry Maryland and Delaware!) and twelve countries. Some call me "fickle" or even "tangential." I like Bruce's reasoning better. His manifesto describes a way of thinking that seems foreign to most people. The way I see it, everything is connected. There is no "science," there is no "art," no "economics" or "architecture." Everything is one, and when someone talks about anyone of these disciplines, they are in fact talking about everything else as well.
Send Feedback
|
Permalink