by Katy Purviance on 10/22/07 @ 06:03:47 pm
Categories:
Class Notes
,
Observations
| 732 words | 8004 views
Professor Bruce Haglund delivered a most interesting lecture on my favorite of all architectural topics: green architecture. It was exhilarating. It gave me hope. It made me think that my little anti-American-Imperialist dreams had a chance, that I could really ex-expatriate to one of those countries (such as England, per Bruce's example) that actually cares about the environment and isn't just paying it lip service.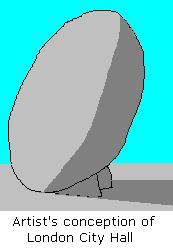 The English, Bruce tells us, are, as a nation, more interested in architecture than we Americans are. They hold free public lectures on architecture, the BBC regularly airs programmes on the subject, and it is a common topic of discussion at the House of Lords. Good luck seeing anything like that here. England has also signed the Kyoto Accord, expressing their seriousness in cutting CO2 emissions.
Bruce covered three building projects in England to demonstrate the manner in which the Brits are actively cutting their energy use  London City Hall, Eden, and the Beddington Zero Energy Development (Bed-Zed). Use these flash cards whenever you're stuck for a good I-Like-the-Environment idea:
Flash Cards  Clip 'n' Save!
London City Hall
• The building is spheroidal in shape which minimizes it's skin area to volume ratio.
• The floor tiles are made of recycled materials.
• Ground water is run through pipes in the walls to create radiant cooling.
• Fresh air seeps up through the floor and circulates to the ceiling where it is extracted.
Eden
• The roof is made of a series of tri-layered foil cushions, the middle layer being made of reflective metal.
• All rainwater is collected and used within the biodome.
• The restaurant serves both local organic food as well as food grown right in the biodome.
Bed-Zed
• The development is solar heated.
• Generators create power which is used to recharge the electric cars.
• Heat-recovering generators are on the ceiling.
• The living spaces are situated on the sun side of the development.
• Plants are used to treat gray water.
• The windows are outfitted with PV cells.
• The walls are massive and thus insulatory.
Seeing the lengths the Brits have gone to ensure not just sustainable, but in some cases actually regenerative building environments illustrated quite clearly just how very far behind we Americans are in this regard. I think I speak for everyone when I say that I was disgusted.
And that disgust isn't just a feeling. No. It is quantifiable thanks to an ingenious device called the Regeneration-Based Checklist for Design and Construction, designed by a Malcolm Wells.
1. It's about time.
Yes, our little hamlet of Moscow is simply lovely but for the refugee of suburban Los Angeles, for example, seeing a lovely place should not have to be a big fat deal. No. Beautiful places should exist all over the place, not only as a pre-emptive measure against stress-related disorders, but simply for the sake of beauty, and my definition of beauty can pretty well be summed up in the regenerative categories of Malcolm Wells' chart above. I maintain that this stuff is innate and instinctual and if only the designer would listen to the voice of reason within then we would not be subject to built environments that make us want to scratch our eyes out.
2. What a pleasant thing to know that not all countries are as hedonistic and short-sighted as own.
Learning about just a few of England's active energy-reduction plan projects helped me realized that maybe the world's not going to Hell in a handbasket after all. It makes me wonder what else is going on in the world that has not made it past our iron curtain of privately-owned media conglomerated propaganda machine that we call the news.

3. Why Do We Americans Think We're So Damn Special?
Look, I know that we as Americans still posses a sort of pride over kicking Mother England off our backs that one time, not to mention our generalized sense of snobbery over being "The Greatest Nation on Earth" or whatever, but really, would it be so horrible to concede that maybe some of our choices have been pretty stupid and that we might be able to find the solutions to our problems in countries other than our own? I think we should look to Europe, to Asia, to South America, to Africa, and see if we can't learn by their example.
Regeneration-based Checklist for Design and Construction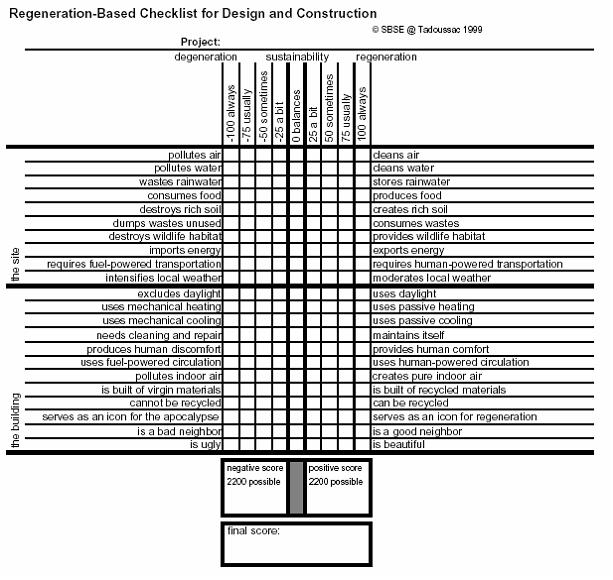 Send Feedback
|
Permalink