by Katy Purviance on 11/05/07 @ 08:37:14 pm
Categories:
Class Notes
| 832 words | 984 views
Professor of Architecture Wendy McClure gave voice to the many concerns that face a community when deciding the fate of its old buildings.
Can we afford to preserve our buildings?
Can we afford not to?
How do we decide what to save?
How do we decide what to tear down?
The preservation of old buildings is necessary for a variety of reasons. First, imagine what a place would look like if all of its buildings were built yesterday. You would have a place devoid of character, a place that stands as a memorial to those who have foolishly rejected history and all of its slowly-learned valuable lessons. We should care about our old buildings because each one is a link to the past: they can tell us what our parents were like, what our grandparents were like; they are the embodiment of an era and can speak of our culture and our identity.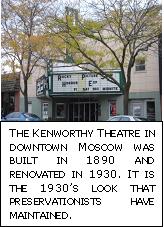 Wendy showed the class a video from a public access call-in show in which the local experts (Wendy included) explained the importance of historic preservation. The prevailing thought was simply that not preserving a building is wasteful, and waste is a sin. From an economic stance, some of these older buildings are an area's only remaining affordable housing, such as in west Pocatello where developers are building nothing but houses out of the price range of young families. From an environmental view, it is simply better to use what you've got (and the embodied energy an old building already represents) rather than spending energy to first demolish one building to next spend energy to erect a new one. While most developers seem to be anti-preservation, its incentives far outweigh the reasons behind their bias.
There are a number of preservation strategies. I'll define them here:
Preservation: An on-going maintenance program whereby the existing form, integrity, and materials are sustained. E.g., keeping the folk character of Pike's Place in Seattle.
Restoration: The process of returning a building back to a specific and significant point in time. E.g., Washington's residence at Mount Vernon.
Rehabilitation and Adaptive Use: The integrity and materials of the building are kept while changes are made in the building's function. E.g., a defunct warehouse is turned into a school.
Reconstruction: Buildings are created from scratch according to a bygone era. E.g., Colonial Williamsburg.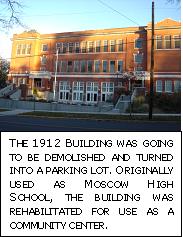 1. Sometimes older is better.
While there is much to be said about some of the cool new things architects are doing these days, it's pretty clear that architects of old had a few things figured out that some contemporary architects have yet to figure out. A case in point is orientating a building according to the sun. Before the advent of mechanized systems, architects designed buildings to capture optimal amounts of natural sunlight and ventilation through the use of fenestration orientation. With mechanized systems, however, architects were free to orientate buildings and design their fenestrations according to other, less-environment-dependent, paradigms. What seemed like freedom has backfired: our modern substitutes for nature have proven to be detrimental to human health, safety, and welfare.
2. Thanks to the damaging effects of the automobile, a lot of small towns need the help of preservationists in order to recapture their bygone charm and livibility.
While Main Street used to be the center of small town life, the automobile pushed it into the arena of a high-speed, fast-paced, high-stress environment. Some merchants slapped modern materials over their business's charming facads and erected ostentations signs to attract motorists' attention. Other merchants moved their business out to the new highway strip where parking was less of an issue. Corner stores were replaced with gas stations. Newly-erected malls drained whatever life was left in Main Street. The result is dismal. But there's hope: some civic-minded citizens banded together to create the National Trust for Historic Preservation which launched The Main Street Program which seeks to revitalize the downtowns of small towns via not only the restoration of historic buildings but also through a number of infill construction projects such as widening sidewalks, planting trees, adding lighting, and installing public art.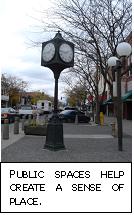 3. While there are many good reasons for preserving buildings, perhaps one of the best reasons is the fact that, in some communities, contemporary architecture is considered an eyesore.
Wendy showed us slides from her time in New Orleans which, like most of the South, is rife with gorgeous old antebellum architecture. Southerners categorically do not like contemporary architecture: it is an affront to their culture and worldview. Preserving their buildings is about more than not being wasteful, about more than saving energy; it is about keeping that genus locus which is so much a part of residents' sense of identity and culture. The same can be said about many other communities across the country: We don't want our community to look like every other place; indeed, places that look like every place become, in reality, no place at all.
Send Feedback
|
Permalink