by Katy Purviance on 06/23/08 @ 12:29:28 pm
Categories:
Applying to Grad School
,
Articles
,
I love this building
| 387 words | 7068 views
I just saw this building on Metropolis in Stephen Zacks' article about Jeanne Gang.
I love this building. I had to share it with you right away.
HYDERABAD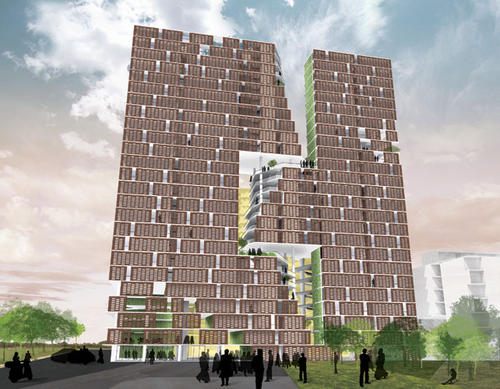 Harry Cobb invited Gang to propose a project for one of several apartment blocks being developed by Tishman Speyer for young professionals in Hyderabad, India. Taking cues from traditional Indian homes and the Gujarat stepwells, she devised a group of high-rises oriented around a courtyard.
Zacks quoted an interesting comment about Gang:
"Jeanne is very much a Midwestern architect," says Stanley Tigerman, who has collaborated with Gang on several exhibitions, a book, and an upcoming unreleased project. "She got nothing from Harvard as best as I can tell. Her work is not frivolous, which you would expect from an Ivy League school. It's about structure and construction. It's rational but also poetic, and she's quite willing to take a risk with structure. It's a very Chicago kind of thing, the fascination with how you make things, how you structure things, how materials play into form. She will take a material and push it to its limit and a little further. She has immense courage, therefore she's as good an architect as they get, gender notwithstanding, because I don't know a lot of guys that have the balls to do what she does."
As someone who is about to start at Harvard's Graduate School of Design, this remark delights me. Late last year, I reviewed any student work that I could find on all of the graduate programs to which I was considering applying.
There were several schools that seemed like good programs…
…but the student work made mequestion the purposefulness of the curriculum.
I mean, some of the blobby Look-what-I-can-do models that these schools featured – supposedly to brag about their student talent and possibly lure in others who want to waste time designing things with no socially- or environmentally-redeeming factors – just smacked a little too much of mental masterbation.
So, because of this particular remark in this particular article, I think I'll add one more thing to my list of things I'm excited about:
#272: Explore presence of frivolity at the GSD.
#273: Make sure that I do nothing frivolous at the GSD!
Anyway, I recommend reading the entire article about Jeanne Gang
Send Feedback
|
Permalink