It's not about actually building something.
by Katy Purviance on 02/24/09 @ 07:40:16 am
Categories:
Grad School
| 522 words | 2887 views
We had our first review of the semester yesterday.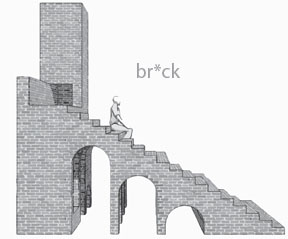 I realized that a large part of my frustration and disillusion with this project stemmed from the fact that there was a fundamental difference in what I though the assignment was…and what the critics thought the assignment was.
And I didn't realize this until late in the review.
I had been operating from the idea that we were supposed to build a structure out of brick with certain programmatic elements (a stair, a bench, a portal.)
Which is what I did. I had a house design I came up with about a year ago that I liked very much, so I isolated the staircase and further developed it within the confines of this assignment. I looked at certain historical precedents, such as the ancient Roman hypocausts and Asplund's Little Chapel and used certain elements to refine my project. I was pleased. I could imagine myself and my friends sitting on its wide platforms, comfortably warm as the masonry slowly released the heat from the two-flue fireplace that punctured the structure. Perhaps we would have a few drinks. Perhaps a couple would descend the stairs and make their way to the intimate bench hidden in the structure to cuddle by the enclosed fireplace below.
(At one preliminary pin-up, I was told that my narrative was not helpful.)
But as we progressed in the project, I became steadily aware that something was terribly, terribly wrong. My classmates were designing things that made me wonder: How will that stand up? What if a strong wind comes along? How can a person actually use your stair when the treads are so tiny? How can a person be at all comfortable sitting on that?
I was further dismayed by the displeasure the critics took in my project. One even remarked, "It looks like that could be built tomorrow." As though that were a bad thing.
I asked my critic about it later. Is it a bad thing to design something that looks like it could be built tomorrow?
Her answer astonished and disturbed me:
"In practice, no. In academia, yes."
(I think I hate you, academia.)
I just didn't get it…until late in the review.
The assignment, it finally dawned on me, was not to actually build something that would be comfortable to use. It wasn't necessarily to design something that could even be built.
The assignment was to see what crazy tricks I could make a brick do. Really. That was it. So simple. It was, essentially, not at all about designing something with firmness and commodity, but rather, just mental masturbation.
Our next project will again concern designing with a particular material (so we've been told). This raises the question: do I play along? Do I make – what? Vinyl siding? – twist into funny convuluted shapes and make a pretty rendering of it for Review Day? What? Really?
Or do I design something that people would enjoy using, that serves some actual purpose…and get executed for it before a firing squad of academics?
I know the answer. Hand me my last cigarette.
Send Feedback
|
Permalink