by Katy Purviance on 12/17/09 @ 11:12:58 am
Categories:
Architects
| 229 words | 3001 views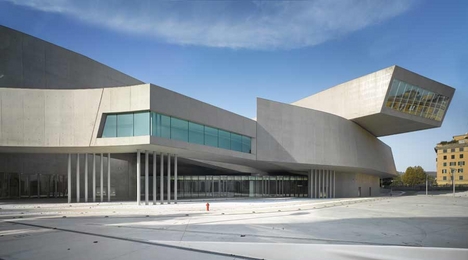 I just read Roman horror day at Zaha Hadid's Maxxi by Ellis Woodman.
Maxxi, Rome's National Museum of 21st Century Arts, displays a cynical disregard for its purpose, that marks a conceit too far for Zaha Hadid

This is the fourth time that I have reviewed a project by Zaha Hadid Architects (ZHA) in these pages, a task that I have always approached with a sense of awe for the practice's quite extraordinary formal facility, tempered by sometimes very considerable misgivings about the plausibility of the completed work. When it has come to the crunch, I have always erred on the side of optimism but I hardly need to say that a less sympathetic observer might find much to object to in the practice's built output.
As an architecture undergrad at the University of Idaho, I was assigned to do a project on Zaha Hadid. I recoiled, because I did not, and do not, like her work. I cut up a bunch of paint chips, through them on to a piece of card stock, and sealed it. Ta da. A big mess of lines and shapes that has nothing to do with anything.
Her latest monstrosity is Maxxi, a very expensive and very empty museum in a sleepy town outside of Rome.
Keep Reading. Feel the cynisism.
Also check out the Pope's involvement with this monstrosity.
Send Feedback
|
Permalink