by Katy Purviance on 05/08/10 @ 08:36:43 am
Categories:
Events
| 1052 words | 1469 views
So yesterday I went to AltBuild 2010 in Santa Monica.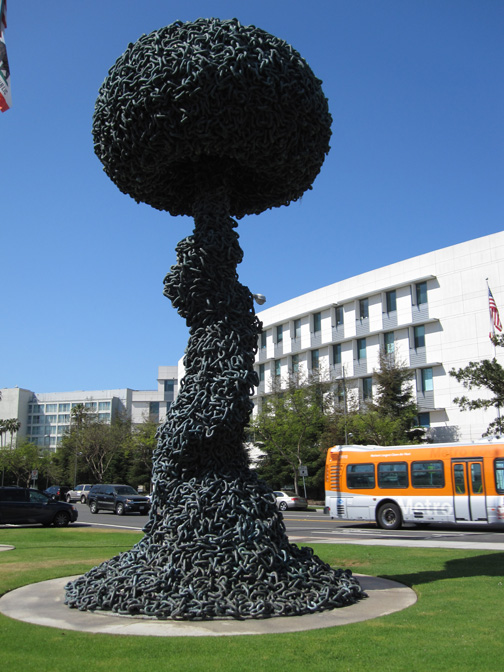 This… art? … is out front of the Santa Monica Civic Auditorium. I think it's a… bomb explosion? Made out of chain.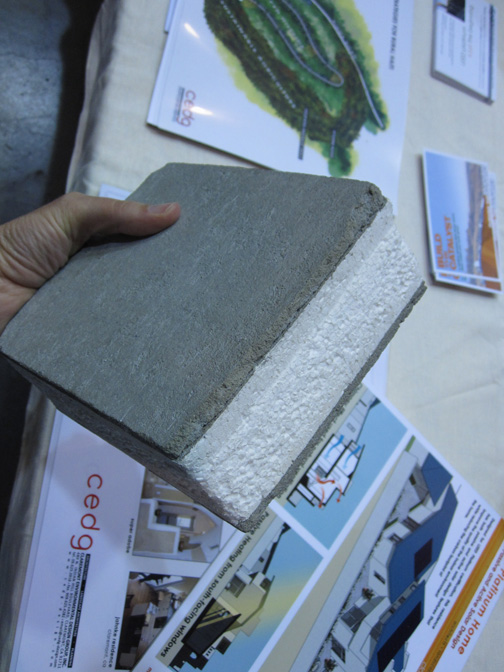 This is from
cedg
. It's called the Apex block that provides three times the insulation of typical construction. It's 80% recycled and is naturally resistant to mold and termites, and also acts as a 4-hour fire wall. It's just styrofoam and cement.
cedg has another product that's 80% syrofoam and 20% cement. They're notched bricks that even unskilled labor could assemble.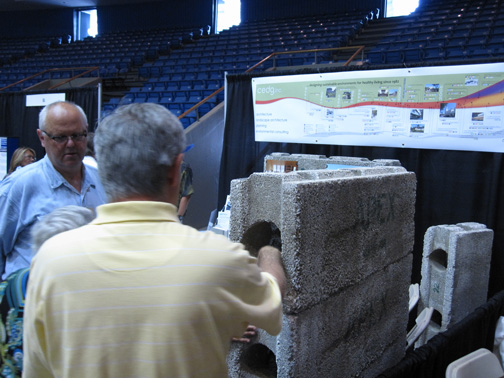 Microview: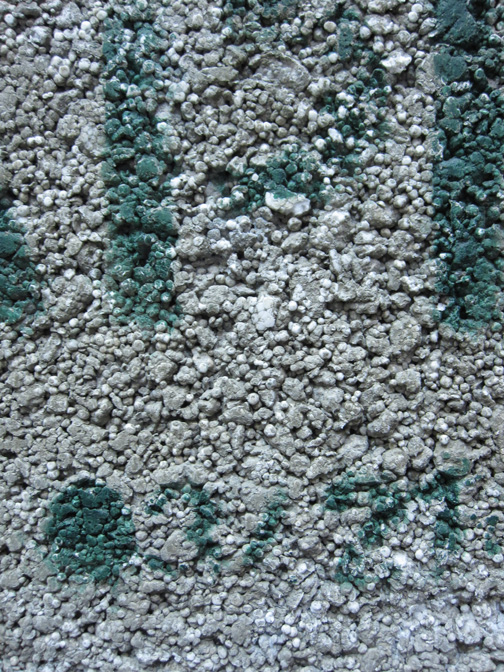 Macroview: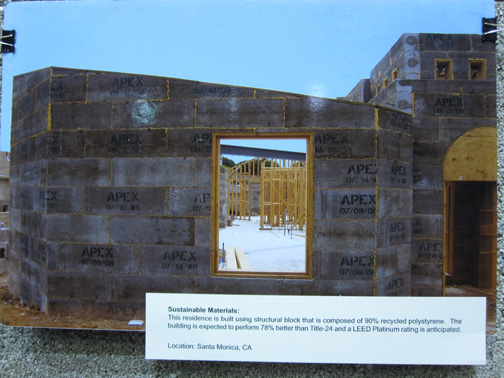 Also they had a photo of this table that you can slide through a wall to create either more kitchen prep space or more dining space: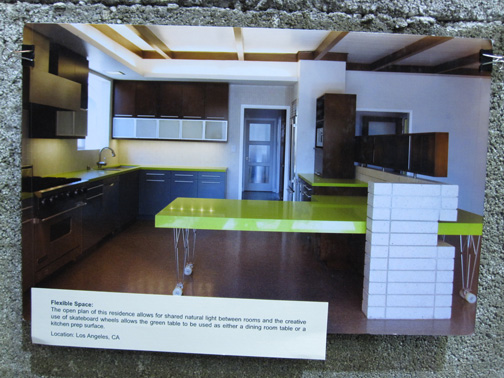 Next I saw a booth for the Building Industry Association with a bright yellow sign that read, "The Builder is in!" There was a man and a woman there, so I said, "Okay, who's the builder?" The woman pointed to the man.
I told them how I'm an architecture student and that I consider the fact that architecture schools just teach you how to sound smart when discussing ideologies and how to make pretty pictures on our computers is a failing of architectural education. "I just want to learn how to build!"
"Okay," the woman said. "How can we help?"
"I don't know."
She handed me a flyer for WE Build – a volunteer day for women to build on a Habitat for Humanity project in Pacoima on Monday, May 24th. The builder, Gus, tells me that he'll make me a deal. If I go, he'll go.
"Okay, I'll see you there."
Then he tells me that he can take me around to construction sites and help me to learn how to build.
"You know," I said, "becoming an architect is like becoming a doctor. It takes so long and is so expensive. I don't want to talk about ideologies or spend all day staring at my computer. I want to get dirty and build!"
"Become a builder," he smiled. "I'll help you." He handed me his card.
I'll tell you, that was the highlight of the AltBuild for me. Here are some other things I saw.
The Building Doctor will tell you where your house leaks energy.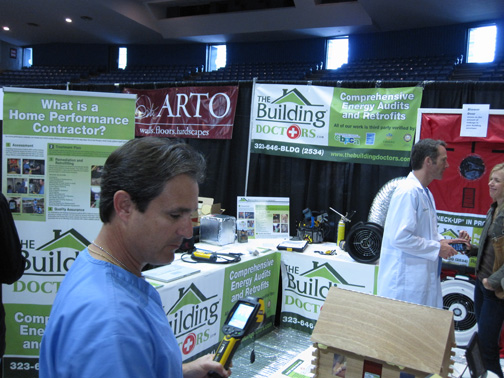 You can see where the home isn't insulated and the energy loss here: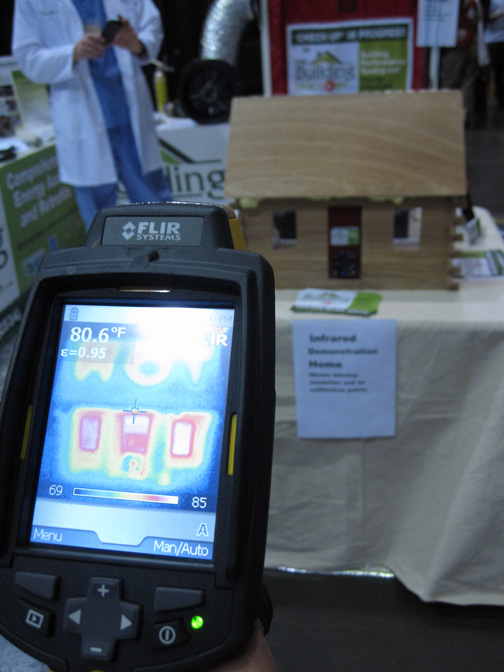 Here's the latest in fireplaces: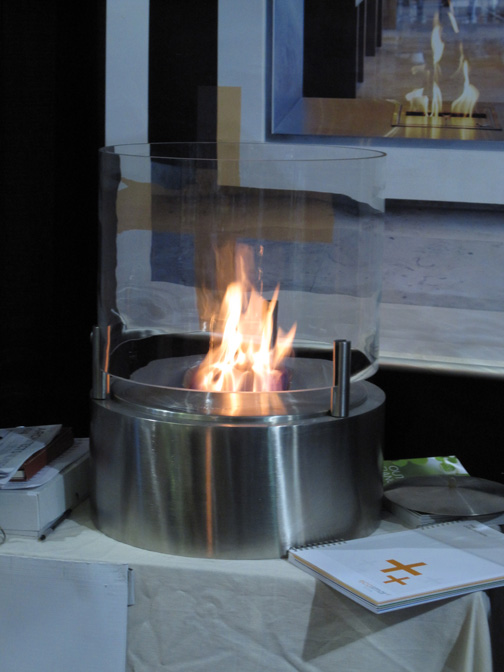 Oh, here's a couple that makes these odorless plumbing-less toilets – the Enviro Loo. They have installations in 15 states and say that their toilet is good for rural areas, camps, parks, and even your own home.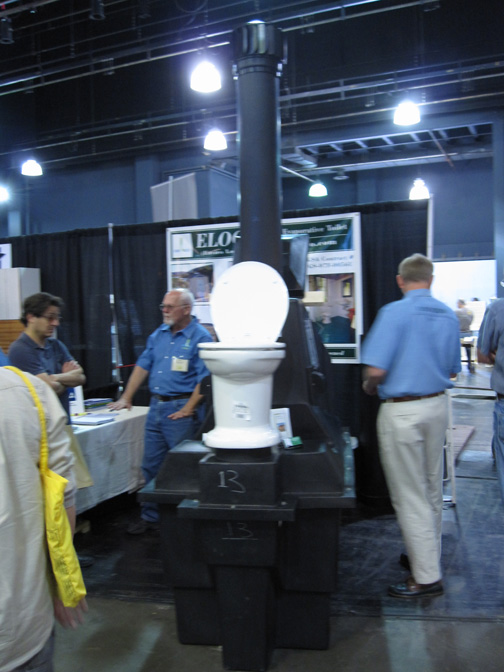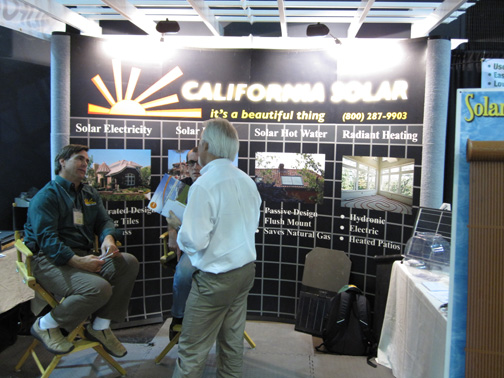 The people at
California Solar
have this set up to heat your pool: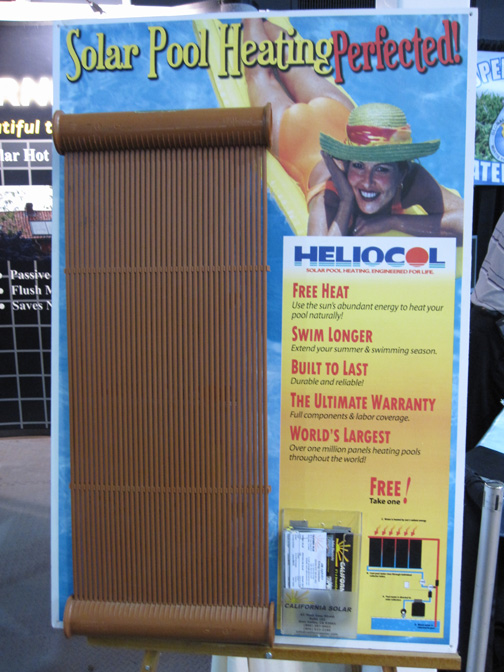 But what I really liked is their integrated PV panel/solar thermal panel. It has channels on its backside for the water:

handmade, whyrHymer, and The LA Box Collective were there with their awesome furniture: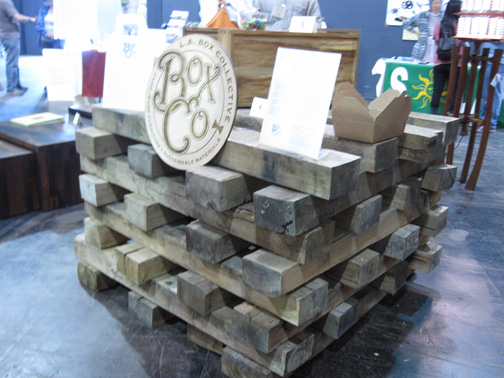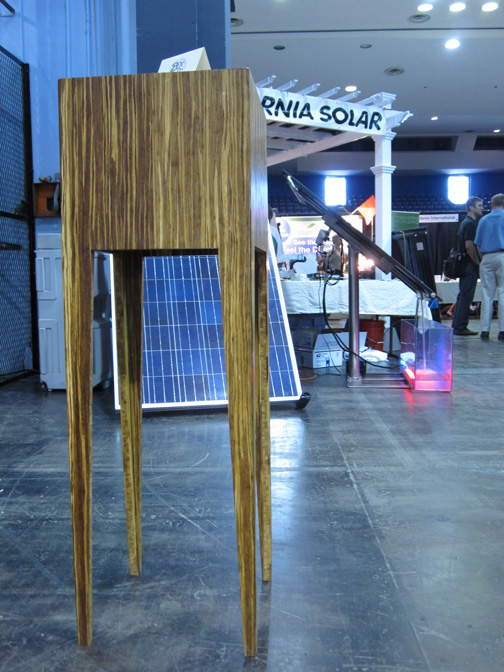 Okay, this is funny. That morning, I shared a link on the Architecture Addiction page about a rocking chair that powers its own lamp. So I said to the admin, what if you had a bike that would power your tv. And here it is: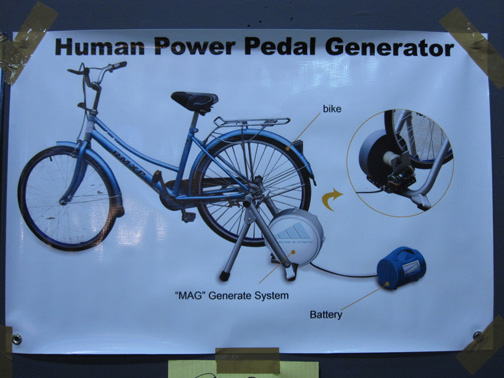 The lady at the booth said that Ed Begley Jr uses his to power his tv.
SCI-ARC adn Caly Poly were on hand to show their work for the Solar Decathalon.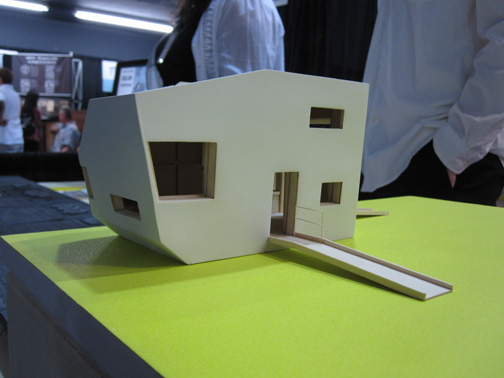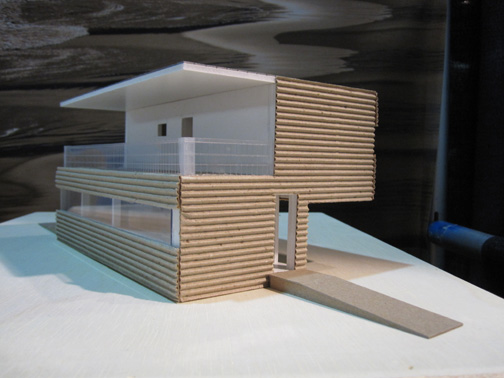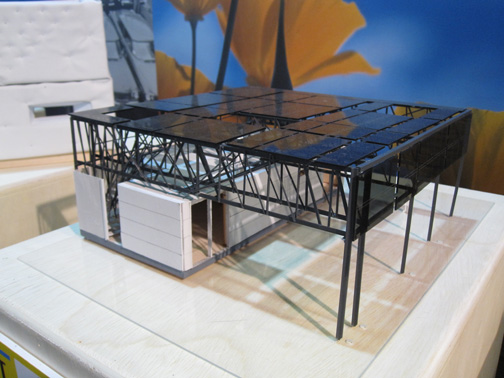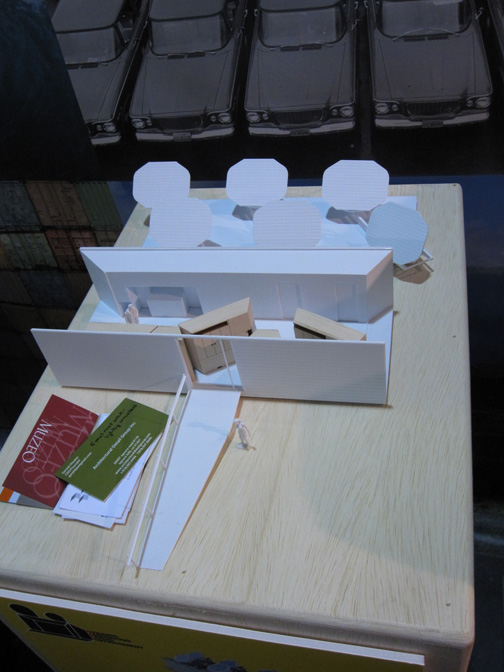 Wait. What's this? It looks like after you make your way up the wheelchair ramp you have to push a heavy piece of furniture out of your way. What?
I had lunch, which was hosted by a company called "lemonade." Guess what they specialize in? The guy rambled through half a dozen flavors that I forgot as soon as he said them so I told him to surprise me. I got cucumber mint. Which was very very good. And then a marinated tofu avocado on a cibatta roll.
Then I went to a talk called "AIA COTE: Beyond PreFab - Containers, Dirt, & Other Affordable Green Strategies for Residential Construction." Now, I know a few people who are very interested in building with containers. I am not. But I was very interested in the dirt architecture segment by Polly Osborne, AIA, Principal of Osborne Architects.
Here's a comparative analysis of the steps involved in manufacturing gypsum board v. adobe bricks v. pise walls:

Here's what you make your adobe bricks out of: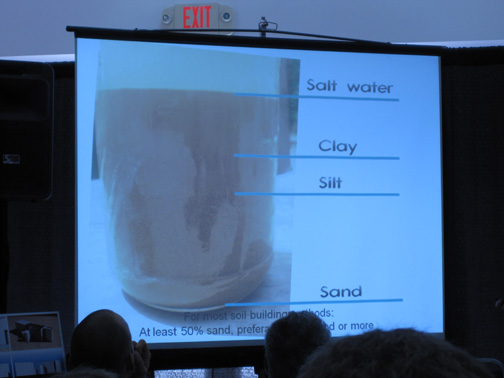 Here's the test they do in Africa to make sure their adobe bricks are good: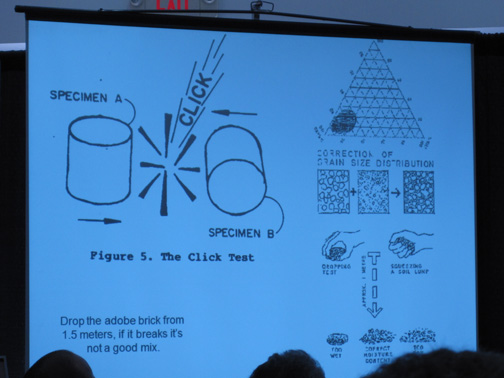 And here's how you can try to make sure that your rammed earth walls are okay around here (good luck):
Here's how you make a rammed earth wall: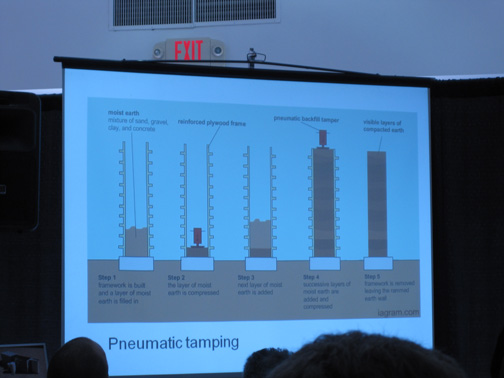 Here's what your rammed wall could look like if you vary your material: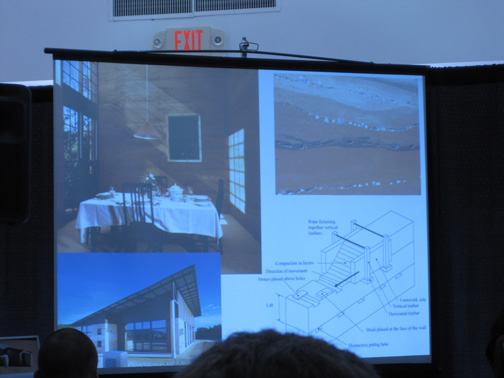 The power of the arch!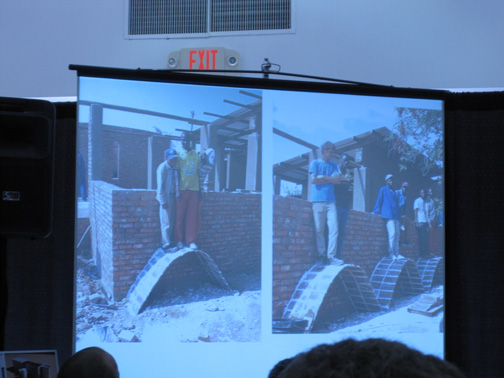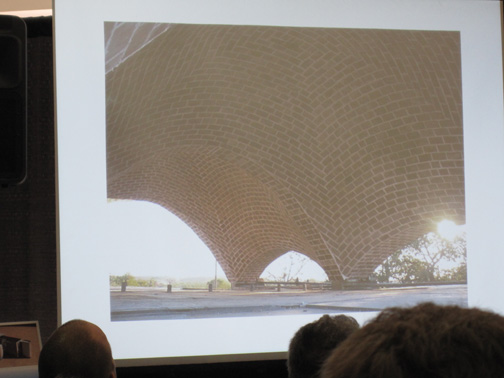 Here's a slide from the container guy during the requisite Complaint About the LA Building Code portion of the presentation: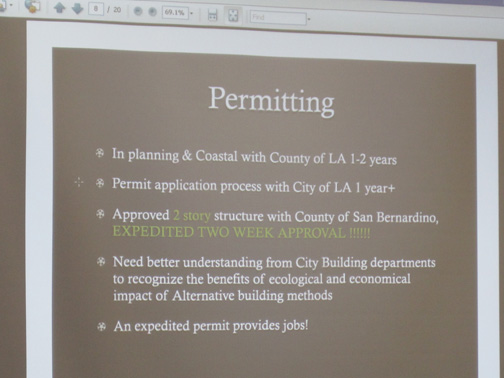 After that I left for a walk. Here's the fire department: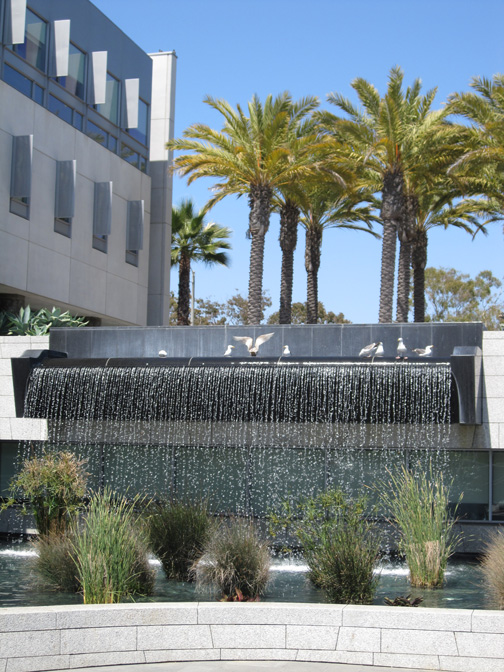 I walked to the 3rd Street Promenade,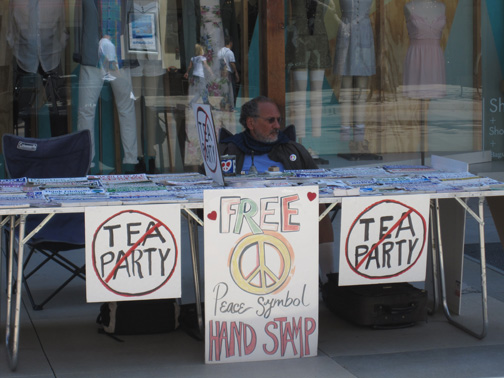 took pictures of the chia pet dinosaurs for you,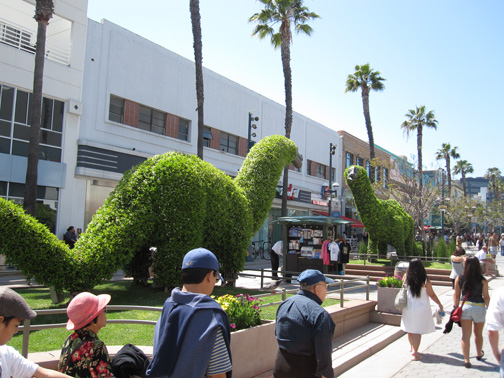 and inadvertantly gained the advice of an elderly "Community Ambassador" who recommended I try Santa Monica's new library.
Which cost $70 million dollars to build.
I was awash in righteous indignation until he told me that the library has a courtyard with a cafe. So we'll let the $70 million dollar thing slide.
I walked over to Santa Monica Blvd and 6th and said to myself of its blase exterior, "So this is what $70 million dollars looks like." And I walked right in. And when I walked right in, I was delighted. Because when I walked right in it was as though I had walked right in to a new kind of outside.
The entrance orientated me to the corner of the courtyard, the enormous windowed doors had been rolled back,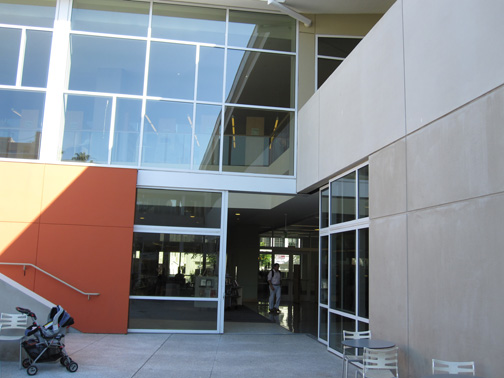 and I walked right out into the sunny xeriscaped courtyard.
It even had a sparkly faux stream thing, with a little bridge over the sparkly faux stream thing to a cafe.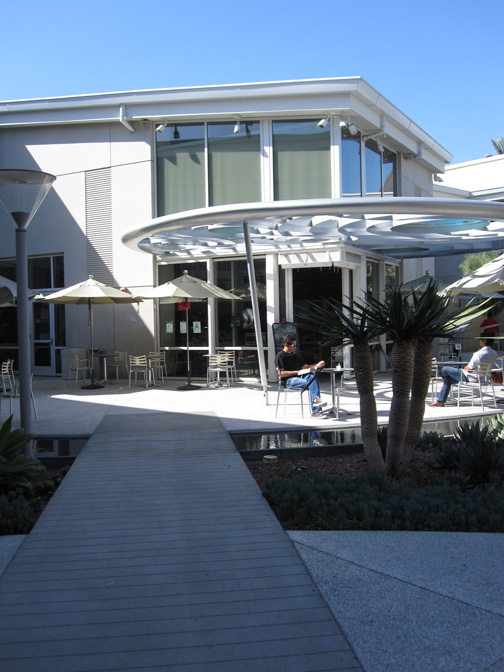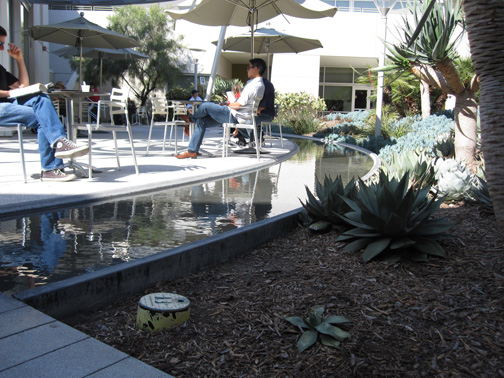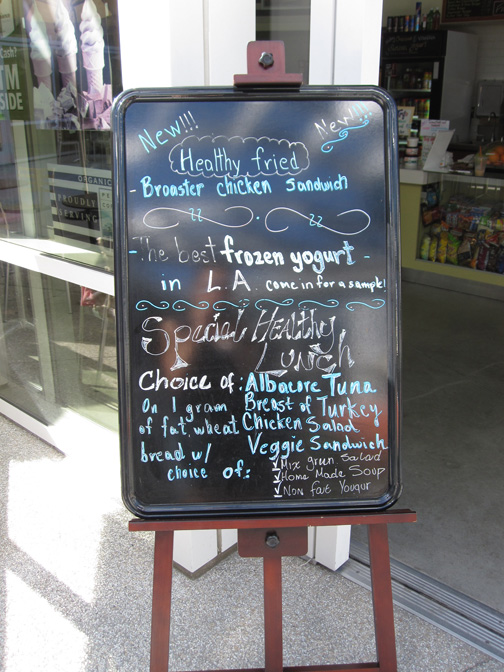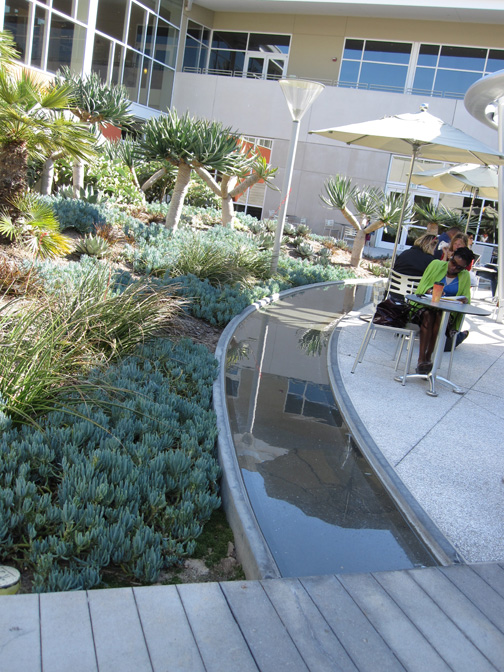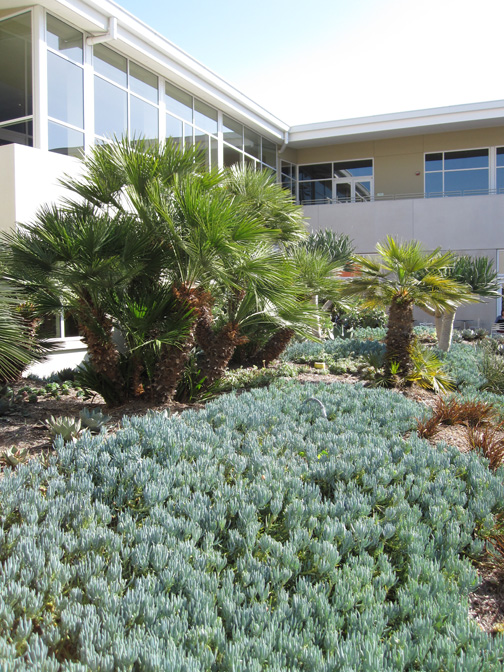 I went back into the library, grabbed the December 2009 copy of Architect magazine (The Education Issue),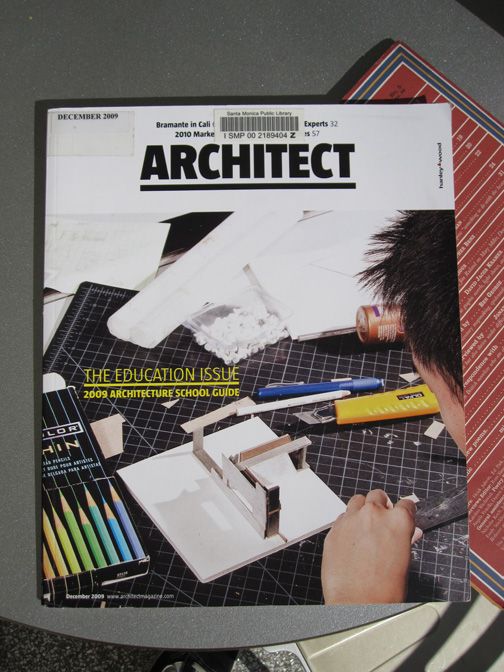 then headed outside, across the bridge to the cafe, and soon thereafter was enjoying a unique libraristic synergy: free periodical + iced tea + sunshine. Beat that, every other library in the world.
And thank you, residents of Santa Monica for your $70 million dollars in taxes.
Send Feedback
|
Permalink