Design your dream home online. Yes, please. [Autodesk HomeStyler]
by Katy Purviance on 07/28/10 @ 01:47:13 pm
Categories:
News
| 807 words | 2138 views
I saw this at Dwell on Design. I thought you would be interested.
The Autodesk Homestyler. You can design your dream home online. You don't have to download anything.
AND IT'S FREE.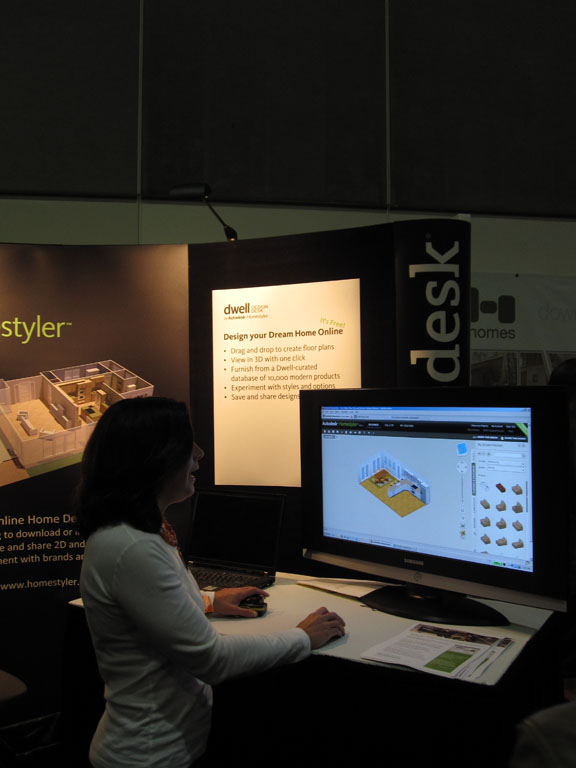 Autodesk® Homestyler™ free online home design software bring your interior design plans to life. Easy drag and drop, brand name products, and 3D views make using Autodesk Homestyler the best way to start your next home design project.
It's free, completely web-based, and instantly accessible online.
Start with a design from the Gallery
Why start from scratch? There's a good chance someone in the Autodesk® Homestyler™ community has already created a design that's similar to your vision. There are thousands of designs to choose from, all free to use, edit, and develop however you'd like. Find inspiring ideas for kitchens, bathrooms, and living rooms, or even offices, retail space, and more.
Create multi-level plans
It's easy to create multiple levels for your floor plan. Choose to clone the layout of your first floor or create an upper level with its own unique dimensions and layout. Easily toggle between floors in your design.
Landscape your exterior
Explore different looks, basic plants, and surfaces for outside areas. Create areas with lawn, pavement, decking, pathways—or even pools and water features. Add in trees and shrubbery to create the landscape design you're looking for.
Decorate with thousands of items. Get a 3D view with one click.
Choose from over 15,000 generic and brand name items in the Autodesk® Homestyler™ product catalog. Easily drag and drop to place items where you want. Each item includes behavior rules to speed placement and improve accuracy.
Choose manufacturer brands
See how your kitchen remodel or new bathroom looks with actual appliances, fixtures, and furnishings from top manufacturers' brand catalogs -luxury kitchen appliances, cabinetry, countertops, sinks, faucets and more. You won't have to worry whether you've got the dimensions right, simply choose the exact products- in the actual size, color and finish options available.
View real product imagery
See high quality photos of manufacturer products in the catalog to get an exact view of the actual item. It's ideal for comparing and choosing between brands and product models.
Print your shopping list
Autodesk Homestyler automatically compiles a list of the products in your new home design, including information such as brand name, model, color, and more. It tallies approximate quantities for countertops, flooring, baseboards, and paint, so you'll know exactly the amount of materials to buy. Simply print your list and bring it with you when you head out to shop.
Try out styles, colors, and finishes. Without spending a dime.
You can save time and money when you use Autodesk® Homestyler™ to try out different design ideas. Not sure how to arrange interior walls, windows, and furnishings? Wondering how paint colors will work from one room to the next?
Tons of options to try
Products in the catalog have numerous options - sizes, colors, styles and more—that you can swap out with the click of a button. Try an entirely new look for your design—the variations are endless!
View in 3D - with one-click
As soon as you've laid out your space, view it in 3D with just one click. There's no messing with camera placement or complicated rendering. Just click and view. Rotate your design to see it from different angles. Switch between 2D and 3D views in an instant.
Change options in 3D view
While you view your design in 3D, just click to change options like countertops, wall color or floors. You'll be able to flip through options quickly to see which changes you like.
Get input! And make more confident decisions.
Share your design ideas and get feedback from friends, family, design professionals, and tradespeople. Simply save your work and send it out via email, place it in the Design Gallery, or post it on social sites like Facebook.
Share in the Gallery, web, or social sites
There are numerous ways to share your designs. Share designs in the Autodesk® Homestyler™ Gallery or use email to send a link to your design. Share on social sites like Facebook, Twitter, and many others to open up your ideas for group discussion. You can even embed a design on your web site — Autodesk Homestyler makes it fast and easy.
Print out designs
Easily print out your designs, including dimensions, to bring with you when you meet with vendors and contractors. You'll have all the details you need to discuss your ideas and make planning decisions.
Export as an image, or in professional format
Save your plan as a simple JPEG image file, or in the DWG™ or RVT formats used by professional designers, architects, and engineers.
How cool is that? I'd love to see what you do with the Homestyler. Post your designs on the Architecture Addiction Facebook Page.
Send Feedback
|
Permalink